Coloring in History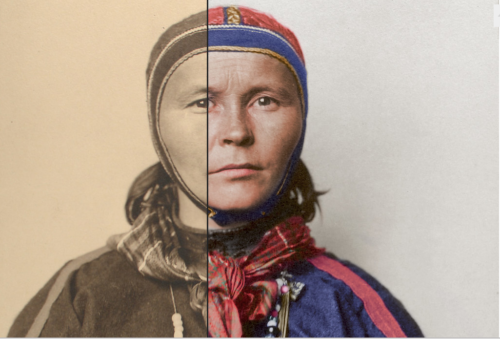 On the weekend, Buzzfeed.com posted photos from the prospective book, The Paper Time Machine, which is crowdsourcing its funding. The book compiles photos of immigrants who entered the United States at Ellis Island between 1906 and 1914 by Augustus Francis Sherman, the chief registry clerk at Ellis Island.
The book will present the sepia-toned photos as colorized through a process called "Dynamichrome." It allows viewers to see the immigrants not as parts of history but as people, down to the ruddy, weathered cheeks that likely came from the sea voyage to America. If the coloring process is accurate, the photos remind us of how vibrant the immigrants' presence likely was when they came to the U.S., and that no matter how much they bought into the promise of America, they didn't automatically assimilate. 
Buzzfeed's story illustrates this by presenting some of the photos with a slider that allows you to see photos as Sherman shot them and after the Dynamichrome process.