Free Webinar on Immigration and Tax Concerns for J Visa Participants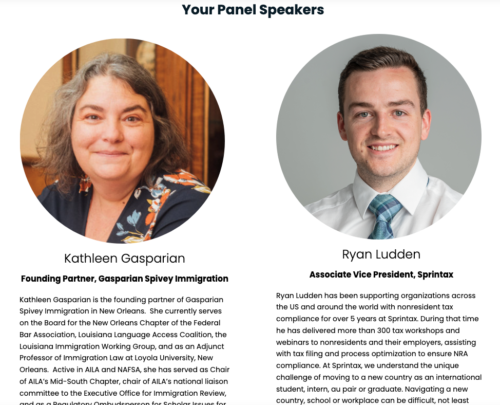 On Thursday, September 22, GSI's Kathleen Gasparian will join Sprintax's Ryan Ludden for a free webinar on "US Tax and Immigration for J Participants." In it, Kathleen and Ryan will discuss issues related to the immigration and tax obligations for US nonresidents on the J program.
Kathleen will provide an overview of important immigration terms and documents, talk about the immigration rules and requirements around the J program, discuss other visa categories and I-9 compliance for employers of the J program.
Ryan will handle the tax side and provide an overview of residency for tax purposes and discuss tax considerations when on J-1 employment, tax forms to be aware of when receiving US income, and end of year tax filing obligations.
The webinar takes place at 12:30 Eastern/11:30 Central. Register in advance through Sprintax.com.