Our Christmas Candle Called for Bridges not Walls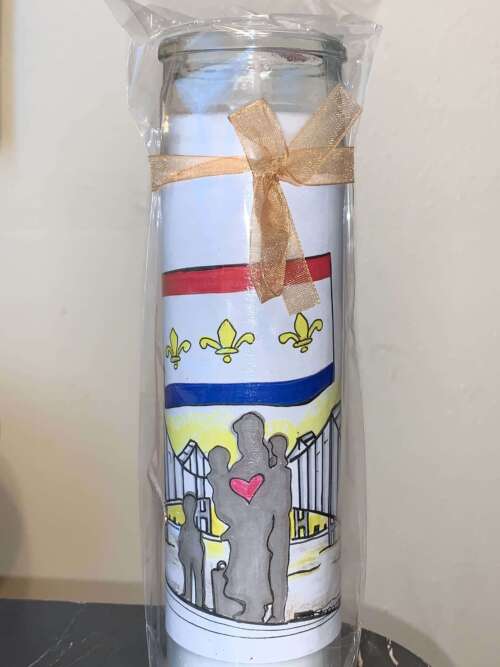 At Christmas time, lawyers often exchange bottles of wine as Christmas presents. For the second year in a row, we opted for something more personal. In 2018, we commissioned New Orleans artist Leslie Nash of Fly Right Galaxy Gifts and Studio to make a custom candle that honored St. Francis Xavier Cabrini, the patron saint of immigrants who also touched New Orleans as part of her life's work.
This year we returned to Nash because we love the spiritual and symbolic gesture of lighting a candle, and we wanted art that reflected our goals as a New Orleans immigration law firm. She came back with a painting based on the Crescent City Connection tied to Kathleen's current motto, "Bridges not walls, y'all." The last few years have highlighted divisions in our society, and immigrants feel them personally while exacerbating them as pawns between sides with conflicting views of who and what America is for. In 2020, we want to do our part to counter those impulses and close gaps. The Crescent City Connection is an apt visual representation of that thought since it literally connects the East Bank to the West Bank, the home of much of New Orleans' immigrant community.
We're proud to be immigration lawyers at this time, even if the work has never been more challenging. In New Orleans and the United States, we need more understanding, compassion, and professionalism when navigating these complex waters. We believe that if we do our jobs conscientiously, we can help people feel at least incrementally more connected to their city, their country, and each other.