Gasparian Named One of the Top Lawyers by New Orleans Magazine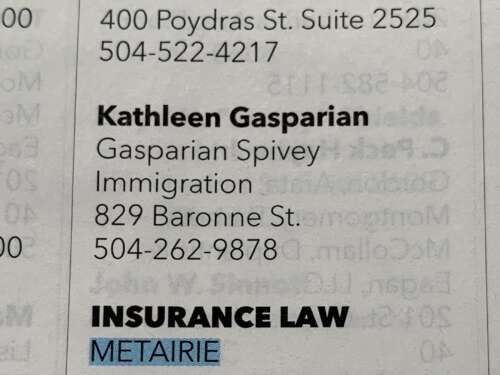 We've been so busy dealing with Hurricane Zeta and the election that we haven't taken the time to congratulate Kathleen for again being named by New Orleans Magazine to the 2020 Top Lawyers list. The last four years have been exhausting for everybody working in field of immigration law as we have struggled to find ways to represent our clients ethically and successfully at a time when the federal government has worked to make just results harder to achieve.
That makes the recognition from New Orleans particularly gratifying. We feel seen, which means a lot in an area of law that largely takes place out of the spotlight. The company we find ourselves in further encourages us because there are a lot of excellent lawyers on the list. To be put in their company is flattering.
Now we're bracing ourselves because the Trump Administration can still do more damage to immigration law between now and January 20, but President-Elect Biden has reiterated his promise for two immigration-related executive orders on the first day of his presidency—one overturning the Muslim ban and one reinstating DACA. Those are just the first among many changes that need to happen to make immigration law more just, but it's a start. We're looking forward to being a part of that change.