Recent Reads Challenge the Narrative of Refugees and Migrants
The Trump Administration's policies on immigration and refugees depend on Americans seeing people from other countries in stereotypical ways. The consequences of America turning its back on those who are struggling in other countries are easier to accept if we see them as criminals and extremists with a professional wrestling-like animus against the United States. Books that counter these narratives seem particularly important since they not only challenge specious, long-held beliefs, but they often connect the realities of lives in other countries to lives led here.
The third volume of The Arab of the Future: A Childhood in the Middle East by comic artist Riad Sattouf continues the story of his upbringing in Syria, focusing on 1985 to 1987. Sattouf's cartoony style and experience as a humorist undercuts much of the gravity in his memoir, but it also makes clear that his story is a family story. Muslim culture is an essential part of the fabric of Sattouf's story, but his Willie Loman-like father dominates the narrative. His sense of his own importance and his need to project confidence even in situations where he is over his head is one anyone with a family can recognize. Only the context changes. Similarly, the struggle of Sattouf's French mother to deal with him and the culture she married into is a familiar one.
Still, the context matters since many of the issues that he and his father face are specific to Syria, including details related to being Muslim. As storytelling, you can reasonably quibble that Sattouf never makes it clear why his mother stayed with his father, but there's no question that the lives depicted in The Arab of the Future are very different from the ones we're asked to believe in by the current administration.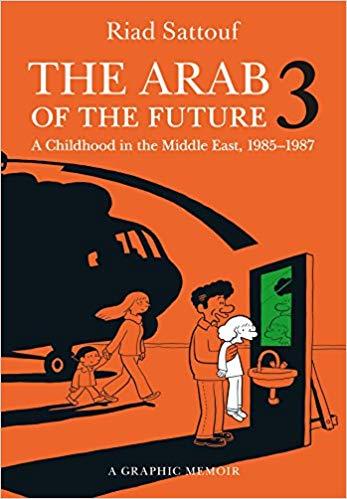 This weekend's book review section of The New York Times includes a column by Monica Edinger that rounds up a number of books for children aged 3 to 8 that address war, violence, persecution and migration. "Telling these stories seems more important than ever—even, and some might say especially, to children," she writes. She draws attention to Nicola Davies' The Day War Came, Patricia de Arias and Laura Borràs' Marwan's Journey, Camille Andros and Julie Morstad's The Dress and the Girl, Alfredo Alva and Deborah Mills' La Frontera: El Viaje Con Papa/My Journey with Papa, Lisa Lucas and Laurie Stein's Spectacularly Beautiful, and Francesca Sanna's Me and My Fear, and you can see her reviews here.
In her conclusion, Edinger writes, "These [books], with their heart-wrenching moments and striking imagery, are certain to provoke questions, especially for young readers unfamiliar with the harsh realities of today's refugees and migrants…. Because of this, these are not books for children to to read on their own."
They're also not experiences children should go through on their own.