Supreme Court Rejects Incomplete Notices to Appear, Creates Opportunities for Foreign Nationals Who Were Improperly Served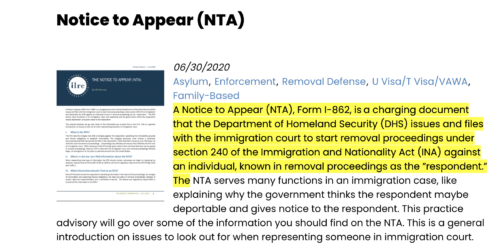 Last month, the Supreme Court ruled that a foreign national had to receive a Notice to Appear (NTA) as a single, complete document—a decision that could impact a huge number of cases and be very consequential. We've written before that as immigration lawyers, we see how important language is to the proceedings, and this case is an extreme version of that. The Supreme Court's decision hung on the meaning of the word, "a."
Niz-Chavez v. Garland decided what counted as an NTA—a document that must be served to non-citizens in accordance with the Illegal Immigration Reform Act, and because of Supreme Court ruling, many foreign nationals whose applications for status changes were denied, as well as many others who didn't even apply because they didn't think they were eligible, may get a second chance.
Under the Illegal Immigrant Reform Act, foreign nationals in the country without status continuously for 10 years may be eligible for discretionary relief from removal. They stop accruing time when they receive an NTA—a document that spells out the charges against the recipient and the time and place for the removal proceedings. In Pereira v. Sessions, the Court ruled that an NTA that does not include all of that information doesn't count as an NTA and doesn't stop the accrual of time.
This became an issue when Immigration and Customs Enforcement (ICE) started sending NTAs that only contained the charges in an effort to stop the accrual of time, then later sent the time and place. This was what happened in Niz-Chavez v. Garland, and the government argued that the two documents together counted as an NTA and was sufficient to stop the clock for the recipient. An unlikely coalition of Justices Gorsuch, Barrett, Thomas, Breyer, Sotomayor and Kagan agreed that Congress' use of "a notice" meant that it envisioned a single document.
The clear majority of NTAs we've dealt with were served piecemeal and not in a single document. We expect the private immigration bar will argue (with good reason) that those two-step NTAs were also insufficient to vest jurisdiction with the court in the first place and the entire proceedings should be thrown out. The ICE attorneys will argue the decision is limited exclusively to the accrual of time for cancellation of removal.
One important practical consequence of this ruling is that foreign nationals who received an NTA in two or more parts are eligible for work authorization and a social security card. They can also apply again for status adjustment through an application called Cancellation of Removal.
ICE has given non-citizens that received the date-less NTA until November 16 to file a motion. In exchange, they have indicated a willingness to agree to allow the cases to move forward for new hearings and/or to allow people to file applications. However:
- This would only directly apply to people who are eligible for cancellation of removal now.

- They must have a qualifying relative (a U.S. citizen or permanent resident parent, child under the age of 21, or spouse) and at least 10 years in the U.S. as of now.

- They will have to show exceptional and unusual hardship to that relative and have no serious criminal history (i.e. establish good moral character).
Since the process of putting these motions together takes time, those who are eligible should seek out an experienced immigration lawyer as soon as possible. If you received an incomplete notice to appear but don't fit the profile spelled out here, contact an experienced immigration attorney to see how you are affected and what relief is available.