Tag: DHS
May 13, 2020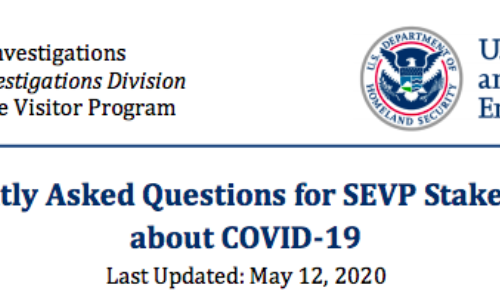 You know you're an immigration lawyer when an FAQ from the Department of Homeland Security regarding F-1 student and OPT issues during COVID-19 makes you happy. True, we may be punchy from all th...
Apr 24, 2019
Monday, the White House issued a new memorandum on Non-immigrant visa overstays The short version is that the White House thinks the number of people coming in with permission and oversta...
Mar 15, 2019
Last October, The U.S. District Court for the Northern District of California issued a preliminary injunction against the suspension of Temporary Protected Status (TPS) for nationals from El Salvador,...
Oct 19, 2018
Late last month, the Trump Administration announced proposed changes to what is known as "the Public Charge rule," changes that "are unnecessarily strict and hard-hearted rules aimed at solving a prob...
Oct 16, 2018
Last week, Justice Brett Kavanaugh heard oral arguments for the first time and gave us a hint at how his confirmation may affect immigration law. On Wednesday, he participated in oral arguments for Ni...
May 29, 2018
Last week, stories of children emphasized the failings of immigration law, of the systems that foreign nationals encounter here, and of the current administration's outlook on the issue. The Departmen...
May 9, 2018
Last week, the Department of Homeland Security terminated Temporary Protected Status (TPS) for those in the United States from Honduras. Many of them reside in New Orleans. They will only be allowed t...
May 7, 2018
People in the immigrant rights community feared that the anti-immigrant rhetoric that helped Donald Trump become president would cause immigrants to view with suspicion law enforcement particularly an...
May 1, 2018
Late last week, Department of Homeland Security Secretary Kirstjen Nielsen announced the end of Temporary Protected Status (TPS) for Nepali citizens in the United States. Those from Nepal who would ha...
Mar 30, 2018
The Trump Administration's plan to add a citizenship question to the 2020 census has met resistance, and 12 states have announced plans to sue to stop it from being added. The concern is that the ...