Are Love and Immigration Law Star-Crossed?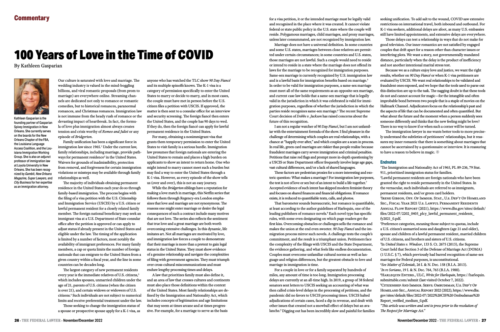 "The formula of love plus immigration almost always creates tension and crisis worthy of Romeo and Juliet and any episode of Bridgerton."
Kathleen Gasparian wrote this line in "100 Years of Love in the Time of COVID," a commentary she wrote for the Federal Bar Association's magazine, The Federal Lawyer. In the piece, she reflects on the uneasy relationship between love and marriage and immigration law with an emphasis on how COVID and immigration delays further strained it.
The piece isn't a how-to for those marry their way into a green card. In it, she reflects on how relationships can be ephemeral, and how that quality can't always be captured by a USCIS interview designed to find hard evidence of real relationship. Certain data points send up red flags for applicants, but as she observes, "These factors are pedestrian proxies for a more interesting and esoteric question: What makes a marriage? For immigration law purposes, the test is not love or sex but an intent to build a life together."
Part of the fun of Kathleen's essay is her mixed feelings, which provide a little insight into her as a lawyer. She understands immigration law and would like to see it find better instruments to validate marriages, but she's enough of a romantic to enjoy the way parts of the human experience defy quantification.
The FBA posts The Federal Lawyer as a digital magazine. Kathleen's commentary is on pages 26-27.