Gasparian Named to Super Lawyers 2023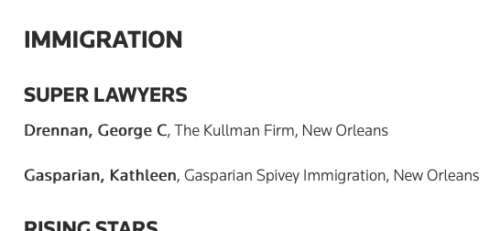 Congratulations to Kathleen Gasparian who today was named to Super Lawyers for 2023. Kathleen has been selected to Super Lawyers for immigration law every year since 2020, and she is one of only two selected for Louisiana this year.
Super Lawyers is a peer-reviewed, research-driven process that recognizes the top five percent of lawyers in their field.
We're proud of Kathleen and appreciate the recognition for the work she and Gasparian Spivey Immigration do. Kathleen and the firm have worked to meet the needs of South Louisiana, assisting professionals looking to immigrate to work in in-demand fields here, international students looking for education and opportunities here, and musicians in a region that values them like the resources they are.