Las Cafeteras Add Optimistic, Political Notes to Jazz Fest in New Orleans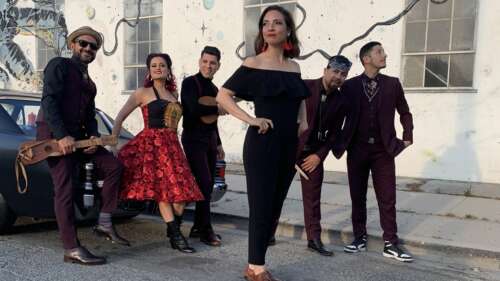 Last weekend, New Orleans' Jazz Fest returned for the first time since Spring 2019. Since it is one of the cornerstones of New Orleans' tourist economy and the identity of a city built on music, it's a big deal. It's also a bit of a misnomer because the festival throws its net more widely than the name might suggest. There's a lot of jazz at Jazz Fest, but the biggest acts of the weekend were The Who and the Red Hot Chili Peppers.
On Sunday, one of the most exciting sets of the weekend took place just out of the spotlight. Las Cafeteras from East Los Angeles played a high energy set that touched on hip-hop, R&B, cumbia, Mexican rock 'n' roll, and son jarocho—a Mexican style popularized in Veracruz. The band jokes that it speaks five languages—English, Spanish, Spanglish, truth, and justice, and it was exciting to hear a band bring all of that to Jazz Fest.
The performance had enough energy, style, and musicality to be satisfying on its own, but the band's activist leanings dotted the show, not in heavy-handed ways, but to remind you that the border, the wall, and the challenges created by them are features of the lives of Mexicans living in America regardless of their status. They might be documented, but singer Hector Flores told the story of how his father "forgot" his papers when he came to the States.
Their spirit is reflected in one of the band's T-shirts—"Yo no creo en fronteras," or "I don't believe in borders," and their optimism that change is possible animated their set from the opening roller skate jam, "Long Time Coming." Still, their most audacious piece of political art came in a rewrite of Woody Guthrie's "This Land is Your Land." Guthrie's song is often mis-heard as a feel-good, patriotic song of togetherness and not the critique land barons literally buying up the land, in part because you have to wade in four verses in the original 1940 version to know that. Las Cafeteras wade in an assert en Español that this land was made for them too, musically moving the song to give it "their own sauce," as Flores said.
It was an unexpected pleasure and a joy to hear so much optimism in a time when it's easy to get discouraged.
You can hear more of Las Cafeteras on the streaming platforms or at their Bandcamp page.