USCIS Facing Possible Furloughs, Slow Downs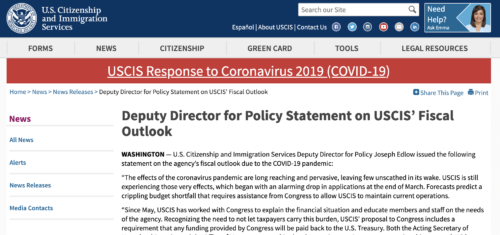 Last week, U.S. Citizenship and Immigration Services. (USCIS) announced that unless it received $1.2 billion to pay employees, it would be forced to furlough approximately two-thirds of its work force. On Monday morning, more than 13,000 USCIS employees woke up to notice that they would be furloughed in 30 days, likely on August 2 or 3. According to Joseph Edlow, deputy director for policy at USCIS, "In terms of anyone applying for a green card, for adjustment of status, or applying for naturalization, the wait times are going to increase substantially to be adjudicated. For non-immigrant visas, any sort of requests for employment authorization, any requests … to change or extend a visitor status of some sort—all of those, the wait times are going to increase."
Edlow blames the budget woes on the COVID-19 pandemic, but a recent study by Doug Rand and Lindsay Milliken published in the NYU Journal of Legislation and Public Policy attributed to them to issues of USCIS' creation. "The agency has made several questionable policy decisions over the past three and a half years, including failing to implement a timely and moderate fee increase, as well as initiating a surge of red tape and staff hiring that likely led USCIS from surplus to insolvency," they wrote.
The Trump Administration's increased scrutiny of immigration processes added red tape and manpower requirements to tasks that moved more efficiently in the past. "Under the Trump Administration," Rand and Milliken wrote:
USCIS has issued a flurry of policies that make its case adjudications more complicated, which reduces the agency's efficiency and requires more staff to complete fewer cases. There are dozens if not hundreds of such policies; four of the most consequential are the institution of mandatory interviews for employment-based green card applicants (some 122,000 per year), family members of refugees and asylees applying for a green card (some 46,000 per year), and recently married couples who have already obtained a green card (over 166,000 per year)—plus the elimination of the "prior deference" policy that now requires USCIS officers to scrutinize hundreds of thousands of skilled worker renewal applications each year, even if nothing material has changed since the initial adjudication.
Rather than increase fees in incremental ways to meet the increased budgetary demands, USCIS waited until November 2019 to propose drastic fee increases—one by 377 percent. The size of the increases paired with the Trump Administration's record on immigration fueled resistance as critics saw them as a way to price foreign nationals out of applying to enter the U.S.
The American Immigration Lawyers Association (AILA) recognizes that regardless of how USCIS' budget got to this state, the slowdowns will be felt throughout the economy and families across the country if USCIS does furlough nearly 70 percent of its staff. "AILA believes that Congress should appropriate temporary funding to USCIS only if it includes safeguards related to transparency, accountability and efficiency," AILA president Marketa Lindt said in a statement. "It is clear that USCIS, an agency that only a few years ago had significant budget surpluses, has run itself into the ground through its own policies and inefficient processes."
If you have immigration concerns or status changes in mind, check with an experienced immigration attorney to see if the furloughs will affect your plans. It may be time to move quickly and get your needs into the USCIS pipeline since the backlog caused by a possible furlough will inevitably take time to work through.
Every day, we seem to have another reason to contact your senators, and some of you likely have them on speed-dial by now. If you want to get involved, let them know that you believe that USCIS needs the infusion of money, but it needs oversight too.