Gasparian Spivey Immigration Welcomes Colleen Templeton Home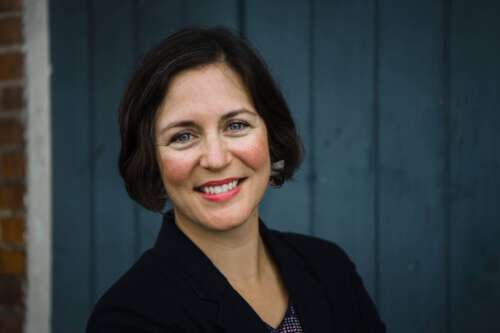 Between Hurricane Ida, immigration business as usual, and the ambient drag that COVID concerns exert over almost all facets of business in New Orleans, we're finally officially welcoming associate attorney Colleen Templeton into the office, even though she has been here for the last three months. For the last few years, she has been a secret weapon for us and turned work around seemingly overnight because she lived in Germany and her business day didn't exactly overlap without ours. Colleen has been such an important part of our business family that an introduction almost seems unnecessary.
Like Kathleen and Leah, Colleen had formative experiences overseas. She grew up in northern Michigan and earned her B.A. from the University of Michigan, during which time she studied abroad in Santiago, Chile. After her semester studying and traveling in South America, she knew she wanted to work with a bilingual community. She began her career teaching bilingual education in Phoenix, Arizona and then in Copán Ruinas, Honduras.
On a road trip back to Michigan in 2007, she found her next job in Chicago and began working for the National Immigrant Justice Center (NIJC). Colleen served as an accredited representative with NIJC and was responsible for representing all detained unaccompanied immigrant minors in removal proceedings who did not already have private representation (some 98 percent of all kids on the Chicago immigration court docket at the time). While working for NIJC, Colleen traveled to immigrant detention centers on a weekly basis and saw firsthand the dire need for law and policy changes.
She took what was supposed to be a six-month trip to Cape Town, South Africa before she was slated to begin law school. Colleen ended up staying two and a half years in Cape Town, finding it difficult to leave the mountains, the ocean, and her Sunday mornings playing Ultimate Frisbee on the beach. In Cape Town, she worked with a refugee rights organization, traveling to refugee settlement communities and advocating for immigrant rights, and with a private immigration consultancy.
Colleen moved to New Orleans in 2012 and began working with Kathleen and Leah at Ware Gasparian shortly after. Having kicked the law school can down the road for as long as she could, she attended Loyola University College of Law while working full-time with Ware Gasparian. Colleen focused primarily on humanitarian and family-based cases until she took a leave of absence to serve an externship at the USCIS New Orleans Asylum Office. Colleen also completed an internship with the New Orleans Workers' Center for Racial Justice, and completed pro bono hours throughout law school with PB&J: Pro Bono & Juveniles as well as the Gulf Coast Center for Law & Policy. She served as Student Bar Association representative throughout law school and as Managing Editor for the Journal of Public Interest Law from 2015-2016.
In 2017, Colleen's husband's job took them to Germany. She finished law school remotely and graduated Cum Laude from Loyola University, passed the Illinois bar, and began working remotely with Gasparian Spivey the following year. Colleen and her family returned home to New Orleans in the summer of 2021. She is happy to be back in New Orleans. At Gasparian Spivey, Colleen primarily focuses on employment-based immigration (EB-1, EB-2, O-1), and is particularly proud to represent musicians who contribute to the unmatched music scene in New Orleans.